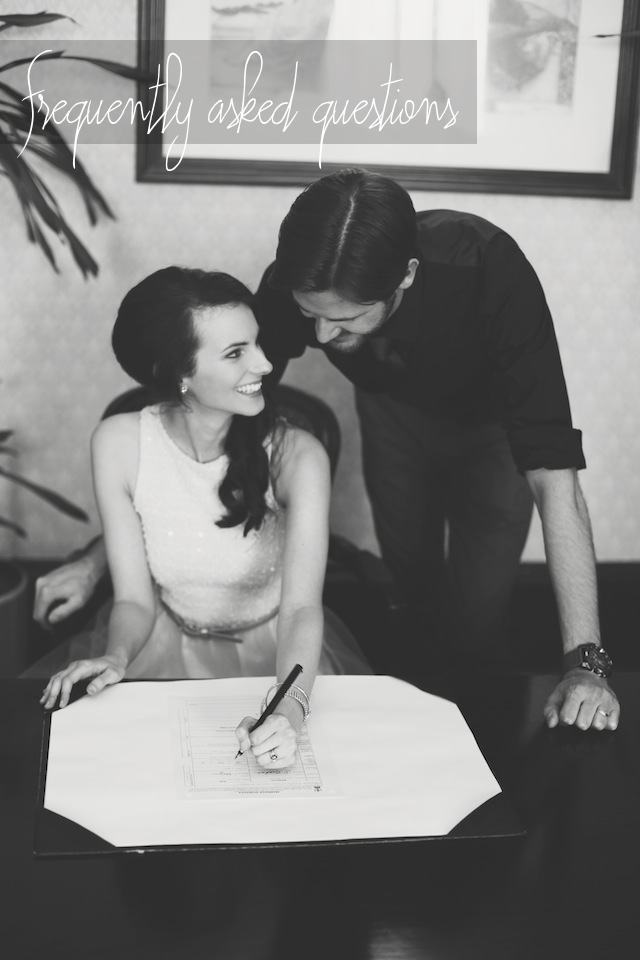 You can always e mail me with your questions, but here are some questions I get pretty consistently, so maybe I have already answered yours! :)
I have divided the questions up into sections: Living Abroad| love | Blogging | Travel | Random
//ON LIVING/STUDYING ABROAD
Note to Americans wanting to live in the UK: Other than through marriage, there are only two legal ways that I have known of people living here, and that is through a student visa (which is what i did) or being transferred here by a work company. If you decide to come out on a tourist visa, be aware that this visa expires after 90 days and does not allow you to work and finding work is very difficult for a non UK citizen.
What are your future plans? Will you stay in the UK/move back to the states/Could you see yourself being that LA girl again?
We will be returning to the USA summer of this year. The date will become more clear as we move further along in the Visa process for Stephen.
Where did you go to school in England?
I went to the University of Nottingham, in Nottingham England. It is a few hours north of London.
Would you recommend Nottingham?
As a university, yes. It is a gorgeous campus and the school is very well known and internationally ranked. As a city, its a bit of an eye sore. Not what one would hope or expect out of an English town (speaking to Americans coming over). But its not hard to escape to other, prettier, places.
What is your degree in?
I have a MSc in Cognitive Neuroscience and Neuroimaging. I have a Bachelors in Psychology from Vanguard University Southern California (orange county). My main focus for both of my degrees was human/child development. So basically I studied/researched/tested children's brains.
How did you decide to move to England?
A more detailed answer is found
here
. But the short answer is my ex wanted to come back to study in England like he had done when was an undergrad. We were bored, sick of so-cal life, and wanted a chance to work on our relationship away from the hustle and bustle, while traveling and getting a higher education degree. Plus, we knew a university within the UK (where english is the first language) would be better recognized in the US for when we decided to move back home.
How did you pay for it?
We had savings to help us live for the first few months while we waited for our funding. But we were fully funded through loans and scholarships. Enough to live off of, pay our tuition, books, and travel. The University helps you set all of that up.
Is it expensive to study there?
In comparison to the states, no. Cost of tuition is drastically less compared to the USA, even for an international student. You are looking at (as an international student) 10-12K for tuition/year. My undergrad in the USA was 25k/year to give you some comparison. However you are also taking out money to be able to live off of..so you add to your tuition balance. But, it enables you to not work, travel, etc. And i always say that school debt is good debt. I never look at my student loans as a mistake. A Masters program is also only one year for the majority of the universities.
How do i decide what University to go to if i decide to study abroad?
Look at a list online of internationally ranked universities. You want to go to one that is known by the USA, and ranked high within the UK. You can google top 20 universities in the UK, and top 100 in the world, then narrow down the schools from there.
Is the application process hard?
No, Its pretty basic and comparable to a USA application. Maybe even a little easier.
Was it hard to make friends?
No, the university is big. There are many ways to get involved, and a lot of different groups to fall into. For me, in my program, everyone was wonderful.
Is cost of living expensive?
It depends on where you are living. For example, central London is going to be more expensive than a place like Nottingham. But again, I'm from southern California, so everywhere seems cheaper than there.. ;)
Did you live on or off campus?
You can find a more detailed answer
here
. But I lived off campus in a house I shared with my ex for the first half of my time in Nottingham. Then I lived in a post grad dorm the second half of my time there. I loved both places. If you are a single person traveling, I highly recommend securing a place in post grad on campus housing.
Where do you live now?
I live in Glasgow, Scotland.
Do you like it there?
Glasgow and I have had a love/hate relationship with each other, but it is not the city's fault. I am not a "city" person, and i prefer to be more in the country/suburbs. Also the north of the UK is very cold and dark for the majority of the year, and that is a real struggle for me coming from southern california. However, Glasgow has some amazing restaurants, definitely some of the best food I have had in the UK, and the university is seriously breathtaking. It looks like Hogwarts. Also Glasgow is conveniently located to places like Loch Lomond. The great thing about Scotland is that, as a country, it is small, so it is so easy to travel around the country and get a feel for each place.
Want to live abroad? you can find more information on immigrating overseas here
// LOVE
How did you and Stephen meet?
You can read about it
here
.
Would Stephen want to live in the USA?
Yes he does. He has fallen in love with california, and we are excited to plan roots there.
How is Stephen going to be able to come and live in the USA?
The most common misconception Americans have is the difficulty in obtaining a Visa. You cannot just go and live in the UK or live in the USA. However, trying to come and live in the USA as a foreign immigrant is much more difficult than coming to the UK. If you are wanting to bring your boyfriend(or girlfriend)/fiancee/spouse to the USA and want more information please contact me via e mail.
//BLOGGING
What do you take your pictures with?
I have a canon rebel t3i DSLR. 50mm f1.8 lens. (highly recommend this lens, it is super affordable for the quality you get). All pictures seen on this blog are either taken by myself or Stephen, unless otherwise stated.
Do you always reply to comments on your blog?
Yes, if you have your e mail attached to your blog I reply directly to your email from my e mail account, where all of your comments are sent. I try to answer
every single question
and respond to the comments that have taken the time to say something meaningful. If your e mail is not attached to your blog account, or you don't have a blog, I now try to answer questions in the actual comment thread. I ALWAYS answer personal and direct e mails. I think it is incredibly rude not to. I like to build relationships with my readers. I may not answer every single "hey nice pictures" comment, but i do my best. I don't see the point in having a public blog if you are not going to interact with your followers...that's what private journals are for..
You can read my view on blogging
here
Do you have any tips for new bloggers just starting out?
The best advice I could give was already written by my friend Jenni,
here
.
*Blogging disclosure
: I monetize this blog through the occasional sponsored post, as well as through affiliate links. An affiliate link means that occasionally I will link to an item through an affiliate site and may make commission off of the sale of an item you have purchased through that link. This does not affect you, your purchase, or the price of purchase in any way. On a very rare occasion a shop will pay me a small fee to include a link to their site within my regular posts. I only ever link to sites if they are stores I would shop at myself, or an item I would personally buy, or have bought. If an item has been gifted to me you will see a c/o under the photograph. The majority of the money I make off of this blog goes solely to paying off my hefty student loan tab, so thank you!
//TRAVEL
Can you give me travel advice on places you have been or help me plan my next vacation?
I get a lot of e mails asking about different places I have been and recommendations. I am going to be totally honest, I am not a travel blogger. I am
the worst
when it comes to taking notes during trips, planning trips, and remembering the places I have eaten or stayed. Seriously, I usually forget the name of the hotel i stayed at almost immediately upon leaving. This is just not my strong suit. I mindlessly travel, take photos, and the photos help me remember that I was in that country. Occasionally something will stick out, in which case I am happy to share, but don't expect a detailed log on any certain city. However,
Liz
,
Lauren
, and
Sarah
, have some amazing posts dedicated to different european cities and countries and I highly recommend taking a look through their blogs to help you plan your next trip...I wish I could be more like them.
//RANDOMS
What do you do for work?
I am a part time in home behavioral therapist for kids, which really just sometime feels like a glorified higher paid nanny job, except slightly more stressful. However, my dream job is to work as a child life specialist. I interned in that department at CHOC and fell in love with it, but they are hard to come by. I am also playing around with the idea of teaching. I also work part time as a stylist, because I just can't seem to escape the fashion industry ;) I love being able to use my mind and degree, but also still be able to express myself creatively. It is currently the perfect balance.
If you could live anywhere, where would you live?
If i could afford to be completely comfortable, with a home and a yard, children, etc..I would live in Southern California. Not LA..but somewhere quiet like Santa Barbabra. I just want to be somewhere warm(er) and have a bit of land.
If you could travel anywhere where would it be?
I am itching to go to Australia and New Zealand.
Would you ever go back to modeling?
No. Not as a serious career. But I enjoy photoshoots..the production of it, the excitement..So for now, if I do a shoot, it's always for fun.
Did you love or hate modeling?
Both. I loved the people (ok most of them), the intensity of the industry, the fashion aspect..but the pressure, the insecurity and the competition really ware on you physically and emotionally.