I have done a little highlight on
Raven
before,
because she is one of my favorite/funniest bloggers.
The kind that makes you laugh so hard you feel a little pee come out.
Just me?
I am REALLY honored right now because Raven is sharing her first time giving birth..
like, she is telling you all her birth story..
a story she hasnt even shared on her own blog yet.
You're welcome.
*******
So when Megan first emailed me about doing a guest post, she said I could write about anything, as long as it had to do with a "first" of some kind. In her words, it could be "first date, first kiss, first time peeing your pants as an adult, or pooping yourself,
first time extracting something from your vag..
."
Well now, don't mind if I do.
And come to think of it, I've never told my birth story before, so what better place to do so than right here at Across the Pond?
You know how birth stories are all sweet and sentimental? The expectant mother arrives at the hospital in her own custom made delivery gown, the soft sounds of Enya echo in the background, she sips on hot tea and engages herself in prenatal yoga every time a contraction occurs, and finally, with the help of no pain relieving drugs, her precious little baby slips into the world as the mother screams out in agony, "I am woman, hear me ROAR!"
Uh, yeah.
So mine was kind of like that.
Except it went a little something like this:
I'm sitting at home watching a movie and feel the slightest bit of dampness down there. Could it have been a little pee excretion from laughing too hard while watching The Hangover? Possibly. However I convince myself that my water has in fact broke and husband needs to take me to the hospital NOW. None of this "waiting it out at the comfort of my own home" bs. What if baby could come out at any second? Last time I checked, those stirrups hubby bought directly stated "Not for professional use. Pleasure and personal only."
Fast forward a few hours. I'm laying in the hospital bed and my very first contraction appears. I'm positive my life is about to end so I page the nurse and tell her I need an epidural, stat. And while you're at it, could you put it on a drip system please?
Someone asks me if I would like to try and take a nap.
Are you f*&%ing kidding me? A nap?! My body is going through a vicious cycle which ends with my parts down there expanding by 5000 percent and you want me to try and take a nap? Go to hell.
It's about time. Everyone gets ready and in position and I grab my husband by the ear and tell him that if he even
thinks
of taking a peak "down there" while it's happening, I will murder him in the most grisly way imaginable. Better yet, just turn and face the wall, ok hubs?
Fast forward to the delivery. Baby is crowning (I really despise that term) and the doctor asks if I would like to put my hand down there and "feel."
Come again? Feel? Feel what? Because I know you aren't asking if I want to feel the human being who is half-in/half-out of my vag, covered in blood and guts and goo and God knows what else. And while we're on the subject, can you please clean the baby off before you give him to me for the first time? Like, seriously, make sure you scrub him down good. I don't like for my hands to get all sticky.
Out he came and the rest is history.
And there you have it. The birth story.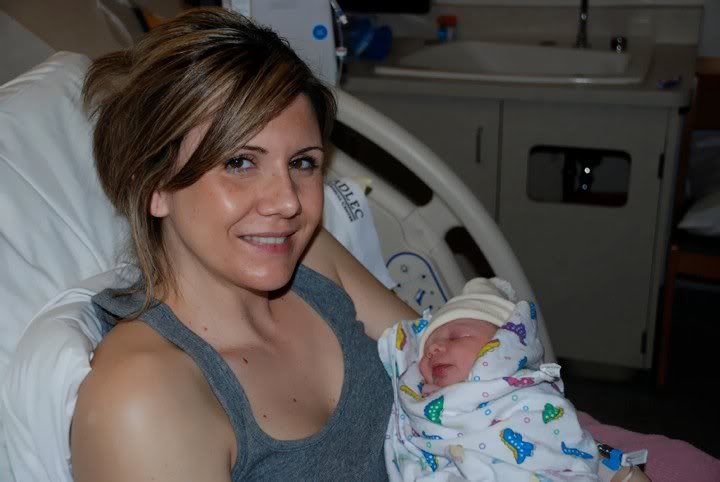 (Excuse the look of death on my face. That's what delivering a baby will do to you.)